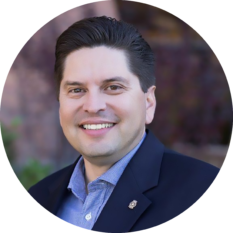 Creativity, Freedom, Success
Andres & Ivonne have been business owners for most of their professional lives, starting with boutique tax consulting firms and leading up to their current real estate business in which they own and operate multifamily communities in the front range of Colorado. Ivonne has worked in multinational companies and now owns and directs the real estate investment firm she owns with Andres. Andres has served as a high-level executive in different capacities at multinational firms, especially in the corporate finance and strategic planning space. As a family, they are very involved in their community, serving in different community programs sponsored by the Rotary Club of Centennial, of which Andres is a member and past president; as well as with other service organizations like Denver Metro Caring, Hope StartsHere Food Bank, and The Children's Foundation. They live in Centennial, Colorado with their two teenage sons and enjoy the outdoors, running, biking and baseball.
IMAGE Studios has a very solid business plan, a very knowledgeable team, and extensive processes that are designed to ensure the success of its franchisees. Andres & Ivonne loved the idea of working with a group of creative, passionate professionals, all the while ensuring a solid business support for the day-to-day operations and empowering small business owners to be successful.